Coolbrook named Tech Champion 2022 in Manufacturing by the Financial Times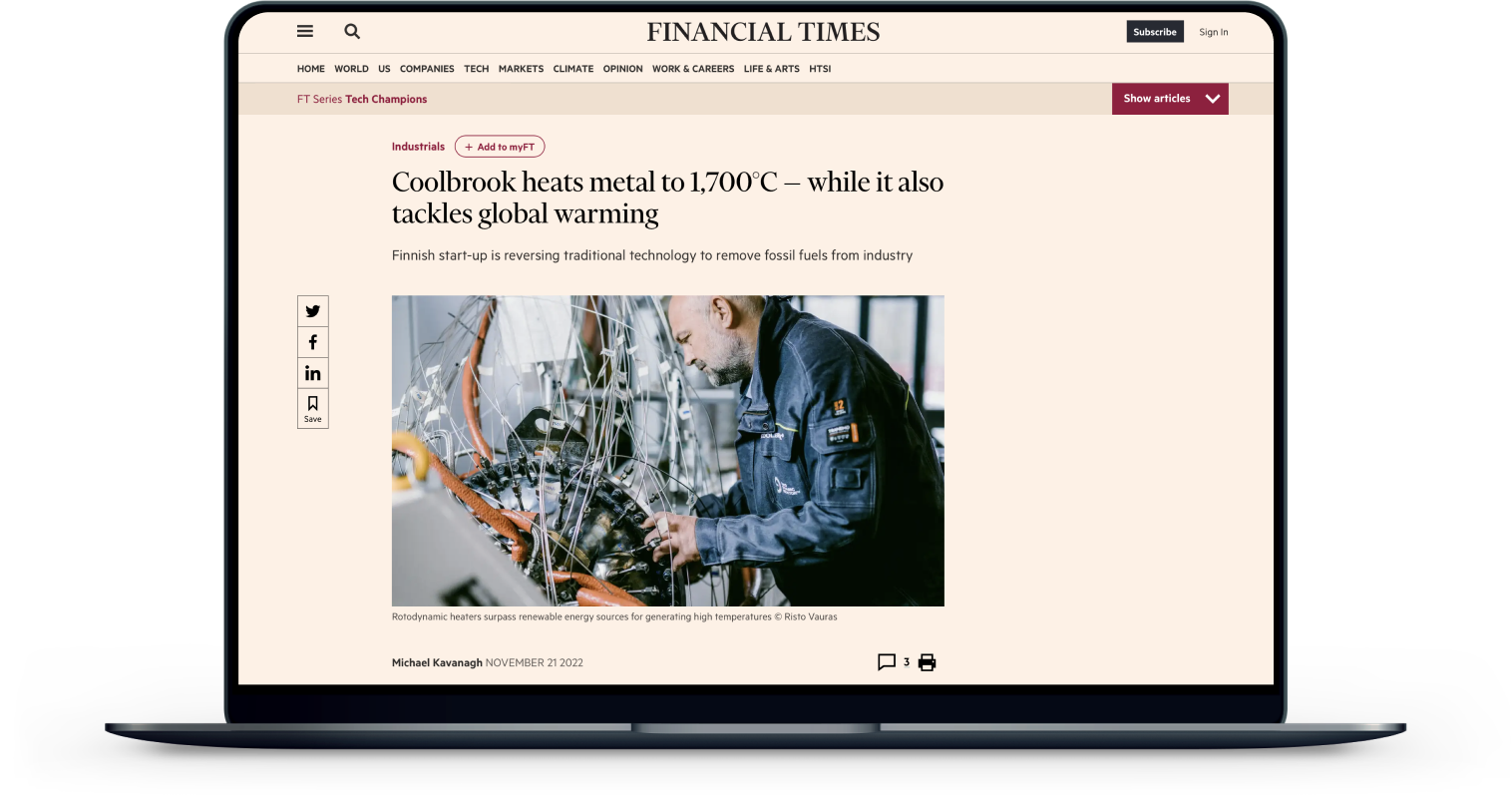 ---
Contacts
For further information, please contact:
Coolbrook
Jenni Schumacher, SVP, Communications
jenni.schumacher@coolbrook.com
tel. +358 50 554 6810
---
We are thrilled to announce that Coolbrook has been named Tech Champion 2022 in the Manufacturing category by the Financial Times, selected from 300 nominees. This prestigious award is given to UK and European companies using technology to meet global economic and geopolitical challenges.
Coolbrook's transformational RotoDynamic Reactor and RotoDynamic Heater technologies can generate heat up to 1700 degrees Celsius using renewable sources of energy, enabling the decarbonization of notoriously hard-to-abate heavy industries like petrochemicals, chemicals, cement and steel. Our technology has the potential to cut more than 2.4 billion tonnes of CO2 per year, which is 7% of total global emissions and 30% of industrial emissions. It is one of the only technologies in the world with the true potential to help deliver on 2030 and 2050 climate goals and the only single innovation capable of cutting emissions from heavy industry at scale.
"We are thrilled and honoured to have won this prestigious award. We see our RotoDynamic technology as one of the major inventions of our time, with the potential to meet humanity's urgent need to drastically reduce CO2 emissions at an even faster pace than previously thought possible. It's an important step that this technology has been recognised by such an influential publication," says Coolbrook's Chairperson of the Board, Ilpo Kuokkanen.
"This award is a true testament to the skill, vision and dedication of our engineering team and partner organisations, who are working relentlessly to develop this technology and get it into the hands of real customers, where it will be used to replace the burning of fossil fuels with clean electric high-temperature heating," says Coolbrook's CEO, Joonas Rauramo.
After developing the technology for a decade, Coolbrook is set to begin demonstrating its commercial readiness on 12 December, 2022 with a ceremony at the Brightlands Chemelot Campus in Gelen, Holland, marking the start of a clean new industrial era.